You have several options at your disposal to find content in THRON. One of these, is through product information inherited by your content thanks to content-product association.

As a matter of fact, when you associate one or more representative contents to one or more products, your contents inherit product information in the form of tags. This makes content more easy to search across the platform.


Once you have associated your content to products and that content have inherited product information, how can you and your team take advantage of THRON search tools to find your content easily?
Probably, in your company there are
One or more photographers (internal or external) in charge of product shooting
A Product or an E-commerce Team, that takes care of managing products and related content for e-commerce and marketplaces publication
A Marketing Team, that produces editorial content for your final channels, such as your website, a blog or social network.
These teams can work with the same content, but in different ways. While the Marketing Team will use content saved in THRON only to enrich website pages or blog post, the Product Team needs to manage both product information and product content to prepare catalogs for the e-commerce or other marketplaces.

This means that different teams have different levels of awareness for what concerns products, product-related content and the usage of tags and taxonomy.
Your Product Manager or your E-commerce manager should know that, through THRON PIM, they can easily and quickly associate content to an SKU to enrich product sheets, or that once associated to an SKU, content inherit its product information and that they can use all this information (tags) to find product content in THRON.
On the other side, the Marketing Team often uses Taxonomy just to enrich content with editorial topics, but they do not have a lot of confidence with product Taxonomy. For this reason, when they look for a specific content in THRON, they are usually driven by an editorial theme.
Different usage of product-related content and taxonomy can be translated in different search methods across the platform. Let's see the following use case to understand which search method fits the most with your needs.
Filtering product content by tag
In case you are a Product Manager or an E-commerce Manager, you probably are in charge of both product information and product content, as well as product taxonomy management and content enrichment for e-commerce and marketplaces publication.

For this reason, you already know how your Taxonomy is composed - including product taxonomy – and you know that
In THRON, product information is translated into Tags
Once you have associated one or more content to one or more SKU, content inherit product information in the form of Tags.
In this case, filtering content by product tags is the most precise and easy way to find product-related content.
When you look for a specific product content, you can filter them by product tag directly from THRON DAM PLATFORM.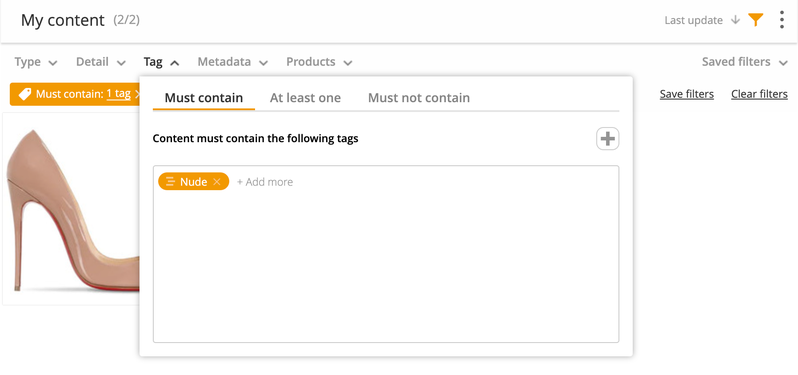 The system will retrieve all the content that contain (or not contain) the tags you typed in the filter by Tag window.

Finding product content through text search
A company selling shoes is about to launch its new pumps collection. To anticipate the launch, the Marketing Team has planned to write an article about new trends in the shoes market and needs to collect some pictures of their pumps shoes to enrich the article. They do not know product codes or product ids and they are not in charge of product taxonomy management.

To find what they need, they can use text search: typing the word "pumps" into the search bar, THRON will first give suggestions through autocompletion and content related to that word

and then retrieve all the content that contain the word "pumps".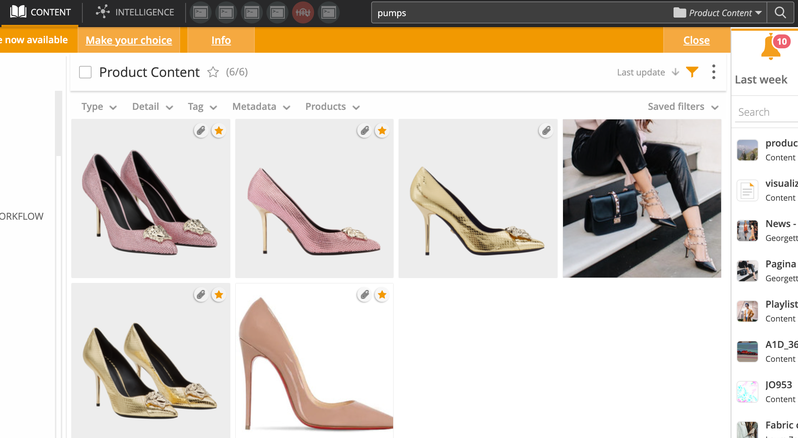 Notes.
When you use text search in THRON, the system will look for the word you have typed in every piece of information related to content: tytle, description, tags and so on, included product information inherited by products. In this case, "Pumps" represents a product category – and consequently a tag - and all or a part of the content retrieved by the text search compare as a result of this search because they have inherited this product data in form of a tag.
Only representative content inherits product information when associated to an SKU.
Finding product content through Content API
To find product content through Content API, you need to use the content/search API.
Find below the requests to be used in order to:
find product-related content via API
{
	"pageToken":,
	"criteria": {
		"lemma": {
			"text": "pumps",
			"textMatch": "any_word_match"
		}
	},
	"responseOptions": {
		"resultsPageSize": 50,
		"sort": [{
			"ranking": {
				"order": "desc"
			}
		}],
		"returnDetailsFields": ["locales", "author", "owner", "lastUpdate", "prettyIds", "playlistDetails", "linkedContent", "itags", "linkedCategoryIds", "imetadata", "externalIds"],
		"thumbsOptions": {
			"divArea": "0x0"
		}
	},
	"clientId": ""
}

find content in a specific folder searching by product Alias
{
	"criteria": {
		"linkedCategories": {
			"haveAtLeastOne": [{
				"id": "",
				"cascade": false
			}]
		},
		"linkedProducts": {
			"aliases": [""]
		}
	},
	"responseOptions": {
		"resultsPageSize": 50,
		"sort": [{
			"lastUpdate": {
				"order": "desc"
			}
		}],
		"returnDetailsFields": ["locales", "author", "owner", "lastUpdate", "prettyIds", "playlistDetails", "linkedContent", "itags", "linkedCategoryIds", "imetadata", "externalIds"],
		"thumbsOptions": {
			"divArea": "0x0",
			"id": "0x0"
		}
	},
	"clientId": ""
}
find content in a specific folder searching by THRON productID
{
	"criteria": {
		"linkedCategories": {
			"haveAtLeastOne": [{
				"id": "",
				"cascade": false
			}]
		},
		"linkedProducts": {
			"ids": [""]
		}
	},
	"responseOptions": {
		"resultsPageSize": 50,
		"sort": [{
			"lastUpdate": {
				"order": "desc"
			}
		}],
		"returnDetailsFields": ["locales", "author", "owner", "lastUpdate", "prettyIds", "playlistDetails", "linkedContent", "itags", "linkedCategoryIds", "imetadata", "externalIds"],
		"thumbsOptions": {
			"divArea": "0x0",
			"id": "0x0"
		}
	},
	"clientId": ""
}

find content in a specific folder searching by product tag
{
	"criteria": {
		"linkedCategories": {
			"haveAtLeastOne": [{
				"id": "",
				"cascade": false
			}]
		},
		"itag": {
			"haveAll": [{
				"id": "",
				"classificationId": "<Tag's Classification ID>",
				"cascade": true
			}]
		}
	},
	"responseOptions": {
		"resultsPageSize": 50,
		"sort": [{
			"lastUpdate": {
				"order": "desc"
			}
		}],
		"returnDetailsFields": ["locales", "author", "owner", "lastUpdate", "prettyIds", "playlistDetails", "linkedContent", "itags", "linkedCategoryIds", "imetadata", "externalIds"],
		"thumbsOptions": {
			"divArea": "0x0",
			"id": "0x0"
		}
	},
	"clientId": ""
}


find content in a specific folder searching by product metadata
{
	"criteria": {
		"imetadata": {
			"haveAll": [{
				"classificationId": "< Classification ID>",
				"key": "",
				"value": ""
			}]
		}
	},
	"responseOptions": {
		"resultsPageSize": 50,
		"sort": [{
			"lastUpdate": {
				"order": "desc"
			}
		}],
		"returnDetailsFields": ["locales", "author", "owner", "lastUpdate", "prettyIds", "playlistDetails", "linkedContent", "itags", "linkedCategoryIds", "imetadata", "externalIds"],
		"thumbsOptions": {
			"divArea": "0x0",
			"id": "0x0"
		}
	},
	"clientId": ""
}