With THRON DAM PLATFORM you can take advantage of THRON delivery and quickly add subtitles to video contents published on your website or on any other of your channels.
You can easily manage, add and edit subtitles from THRON DAM PLATFORM through a txt file. Let's see how to do it step-by-step.
1. Enter the edit space of your video
2. Click on Subtitles on the right side of the area
3. Download the .txt file through the dedicated icon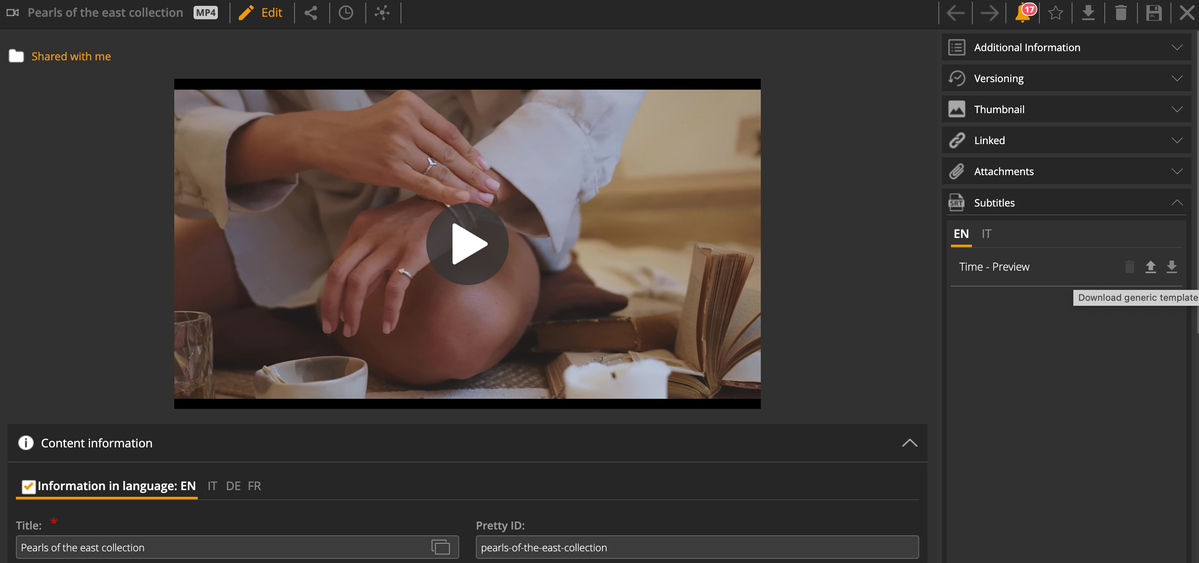 4. Now, write down the subtitles into the .txt file. Note that to add subtitles correctly, you need to respect the structure of the .txt file. Do not add or remove spaces or lines, do not modify the structure of the timing.
For each stripe of text, choose the exact moment in which subtitles should appear and disappear (hours, minutes and seconds)
Write down the subtitles
Save the document as a .srt file.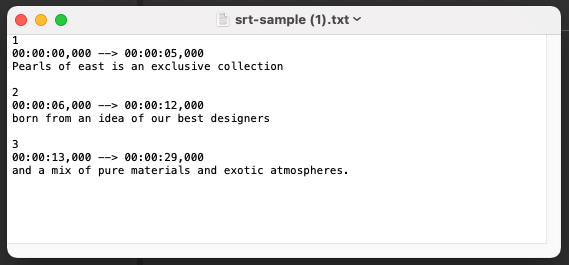 5. Upload the file into the Edit space of the video content in THRON (in the Subtitles section) and save. Repeat actions from 3 to 5 to add subtitles in different languages: you have to download, enrich and upload to THRON a .srt file for each language.
6. If the upload has been done correctly
You will see a preview of what you uploaded in the "Subtitles" area on the right. In case you do not see a preview, you need to check the file and correct formatting errors.
A CC orange icon will appear on the player. Mouseover it and select the language version of subtitles that must be shown on your channels. This selection impact directly on your final channels and external shares.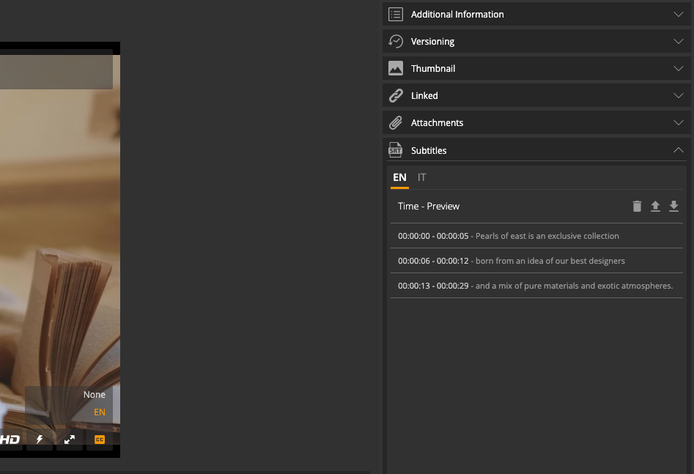 Now, video contents which have been published on your website (or any other of your touchpoints), shared or delivered though THRON External Shares or any other delivery ways, will automatically show subtitles. In case you need to edit something, download the file and repeat the process.
Notes:
To upload subtitles in a different language, you must enrich content information in that language first. Once enriched the content, you will be able to upload a new subtitles file.
In case you do not select any language through the CC icon, THRON will show subtitles in the language of the browser in usage.