Time losses, mistakes, delays on go-to-market: traditional update of product catalogues is over. We have just released a new connector for one of the main B2C e-commerce platforms on the market: Magento Commerce.
Magento enables its customers to create cloud solutions for online commerce. With THRON – Magento Connector, you can now import your product catalog automatically directly from your PIM.

No duplications of product information or associated assets

.

THRON works as your "single source of truth" and

Magento

takes

product

information

and

assets

directly from

your platform

.

No need to upload

any

other

information to

Magento

.

Seamless integration among your systems

.

From

ERP to PIM to your e-commerce:

product information flows are perfectly integrated

across

all

your

systems.

Boost you

r

content with the Intelligence.

Thanks to THRON Content

Intelligence, you can

track the performance

of

the

digital assets

published on your channels,

calculate the return on investments

, collect key data

about

your users and

plan a personalized strategy

base

d

on their interests.
How it works.
Save time and automatize the creation and update of your product catalogues through a perfect integration of your e-commerce with THRON PIM.
Install the connector and, once configurated, it will start an automated procedure to feed the e-commerce catalog with your products. Moreover, Magento will check periodically if new finalized products have been uploaded into THRON PIM in order to automatically update your e-commerce.
Upload, organize, connect: import your catalog in 3 steps!


Create your product catalog in THRON

by integrating it with any data systems, such as ERP

or

PLM. Organize product information and enrich your product sheets with

any kind of

digital assets.

Integrate your THRON PIM with

Magento

and start the

automat

ic

process for the

import

of

your finalized products.

Set a timing for the import:

the connector will create or update the products in your

Magento

catalog

automatically

with the information coming from THRON.
Moreover, you can choose to automatically publish or remove specific products from your e-commerce setting a date directly from your PIM.

Multimedia product experience is just a click away.
Build fully immersive and interactive product experiences in your e-commerce. With THRON Universal Player and centralized content delivery, all you need is already at your fingertips.

Pictures, video, playlists, documents, 360° product view:

engage you customers in

a

unique

purchase

experience

and

make them

feel like they

can really touch

your products

!

THRON manages all kinds of

digital assets, and so does

THRON

Universal Player

.

E

ven those not supported by your e-commerce platform

.

Updated in THRON, updated

online

.

Once

you upload new product assets in you DAM,

they are already

part of your product experience

.

Thanks to centralized delivery,

your content will be delivered directly from

THRON

and automatically updated

within your online store

.
With THRON – Magento Connector, you do not need any other integration. Your e-commerce is perfectly integrated with THRON: product assets and information are centrally delivered (and automatically) from the platform directly to your storefront.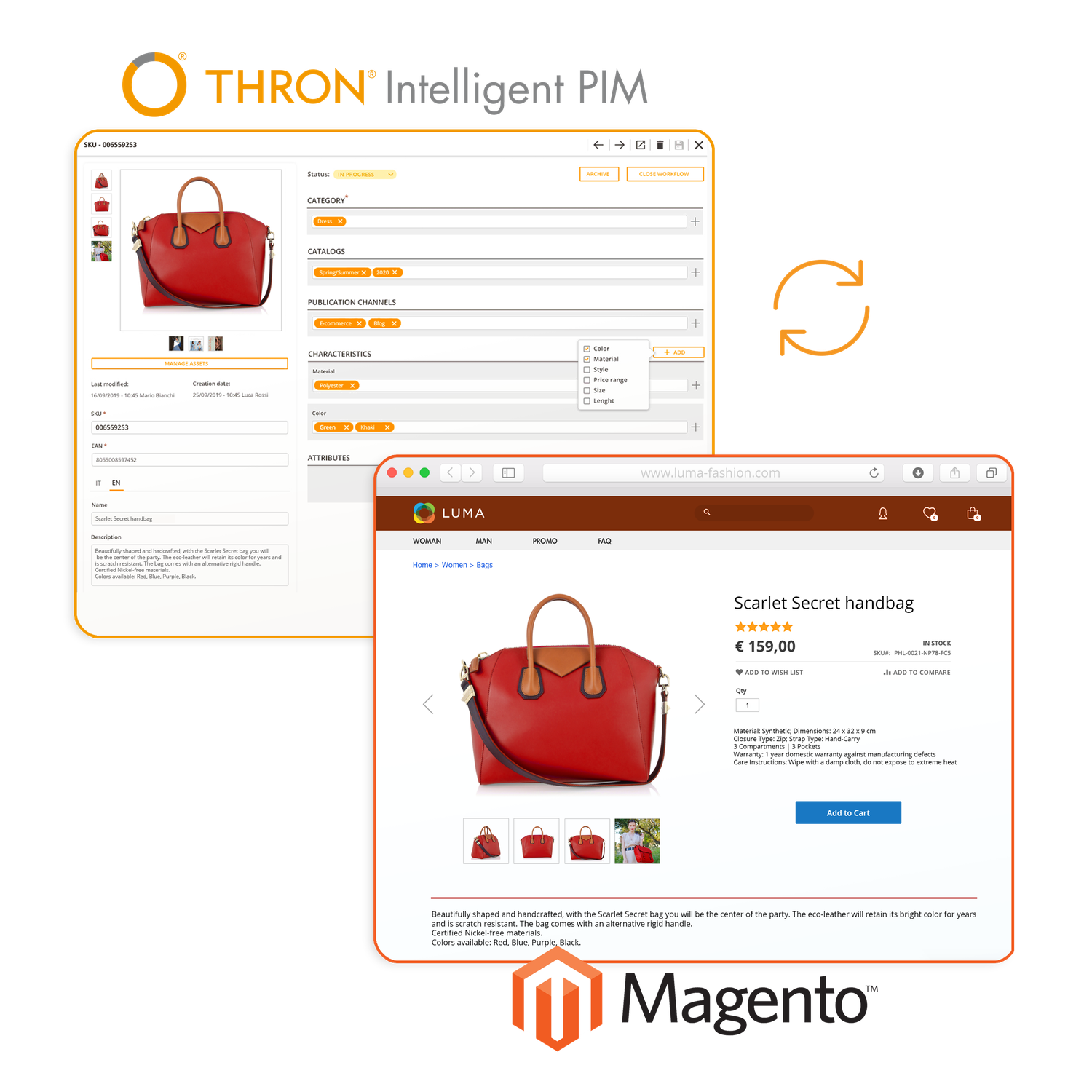 THRON – Magento connector has been certified by Magento and has been developed in partnership with Astound Commerce, a Magento Certified Partner.

Contact us!
Do you need more information about THRON – Magento Connector?
Contact your THRON Consultant or write us at marketplace@thron.com.